Master's of Community Development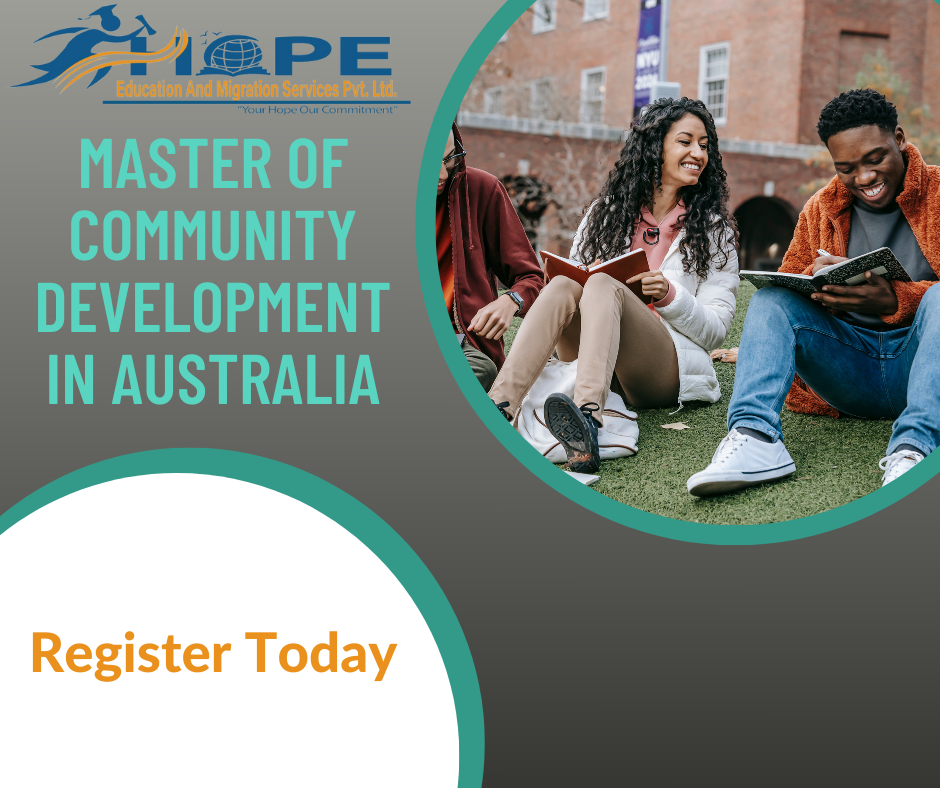 About course
This course will introduce you to the concepts and methods of community development that are employed in communities throughout Australia and beyond to promote and implement community-led change.
This course is intended for community work professionals and recent graduates who are interested in entering sectors that embrace the principles and methods of community development and who want to significantly expand their knowledge through additional postgraduate coursework.
You'll learn about grassroots creative arts initiatives, activism work, urban agriculture and sustainability projects, projects that build on cultural strength in rural communities, and much more. Combine case studies, documentaries, movies, and other inventive digital mediums that highlight instances of community service, and go to workshops meant to impart inventive approaches to engaging the community.
3 reasons to study a Master of Community Development at Murdoch
Put theory into action by participating in an internship in community development at a center for migrant resources, a state or local government office, an international development organization, or through a project in alternative education or community arts.
Learn from top academics who have experience working for community organizations and who are currently conducting research on community-based projects, such as those involving local government agencies, Australian Indigenous groups, and the fields of cultural development, the arts, and film.
Under the guidance of seasoned researchers, conduct an independent research project or dissertation in a field of community practice that interests and is significant to you.
Develop your skills
Build essential skills and knowledge to meet your career or study goals. Topics you'll cover include:
community development in Indigenous communities
building links between community, industry and local government
social policy activism and community change
sustainable and ecological community development
understanding the dynamics of cultural diversity in the workplace and community.
Your career
After graduating, you may find employment in a wide range of sectors, including community and social services, local government, nonprofit organizations, aid work, economic and social planning, sustainable development, and Indigenous governance. Occupational options include:
Community Arts, Development or Service Coordinator
Federal or State Government Policy Advisor
International Aid Worker
Engagement Officer
Place and Activations Officer.
Which department am I in?
Social and Cultural studies
Study options
Full Time (2 years)
Venue
Murdoch University
Perth Campus,
90 South Street,
MURDOCH,
Western Australia,
6150, PERTH, Australia
Entry requirements
For students from Nepal
A bachelor's degree (AQF level 7) or an equivalent is required for applicants, as is the successful completion of at least two university courses at the level of a 7 or higher. Tests of English as a Foreign Language – IBT (TOEFL IBT): 73 with no band less than 18; Test of English as a Foreign Language – Paper Based (TOEFL – Paper Based): 534 (Test of Written English not less than 4.5); Pearson Test of English (PTE) – 50 with no band below 50; Academic International English Language Testing System (IELTS): overall 6.0 with no band below 6.0; Occupational English Test (OET): OET with a minimum C in the four sections, and Cambridge Advanced English (CAE) after 169 overall with no band below 169. Cambridge Advanced English (CAE) prior 52 with no section lower than Borderline.
For international students
A recognized Bachelor's degree or higher, equivalent training, even if it isn't necessarily in a subject directly connected to the course, or adequate preparation through prior study or work experience are all acceptable alternatives.
IELTS overall band of 6.0 with no band below 6.0; CAE overall band of 169 with no band below 169; PTE overall band of 50 with no band below 50; TOEFL IBT overall band of 73 with no band less than 18; Test of English as a Foreign Language (TOEFL) – Paper Based (PBT) – 534 (Test of Written English not less than 4.5); OET – OET with a minimum of C (250-290) in each of the four components