Master's of professional Engineering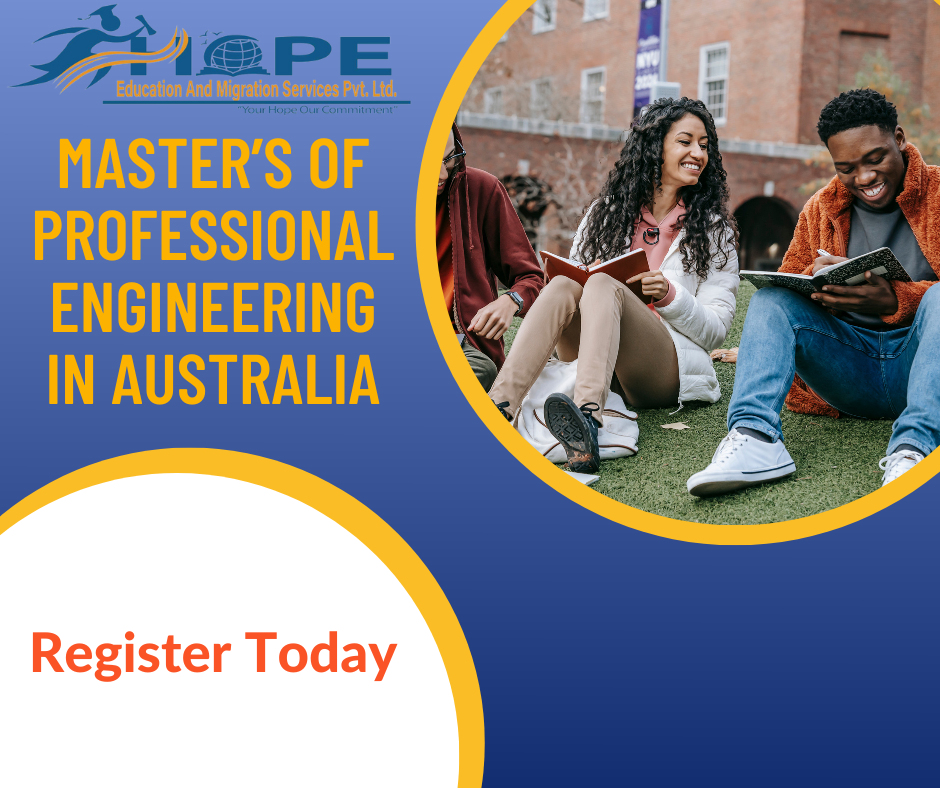 The top engineering universities in Australia provide a post-graduate program called the Master of Engineering. This course is intended for students who already hold an engineering degree that is not professionally accredited but who want to upgrade to a professionally accredited engineering degree or change their field of emphasis. One of the most popular places for overseas students to pursue higher education is Australia.
The Master of Engineering program includes courses to help students advance their technical skills and knowledge in engineering management and analysis as well as an integrated industrial training component. Through specialized study in your field of professional interest, you will be prepared to work as a professional engineer.
Highlights for Master of Engineering in Australia
Factors

Particular/statistics

Total number of Master of Engineering colleges in Australia

Approximately 25+ colleges

Master of Engineering cost in Australia

Tuition fees: A$44,000 – A$50,000 per year

Living expenses: A$20,000 – A$27,000 per year

Top specializations

Software Engineering, Civil engineering, Electrical Engineering, Mechanical Engineering,

Exam required

GRE, TOEFL/IELTS
Top 10 Master of Engineering Colleges in Australia
In this section, we provide subject rankings for engineering. The rankings are based on the year 2022 and were provided by Quacquarelli Symonds (QS) and Times Higher Education (THE) world university ranking 2022.
University/Colleges

QS Ranking 2022

THE 2022

The University of New South Wales

Sydney, Australia

#23

#70

Parkville, Australia

#30

#33

Melbourne, Australia

#39

#57

Sydney, Australia

#45

#58

The Australian National University,

Canberra, Australia

#64

#54

Brisbane, Australia

#73

#54

The University of Technology Sydney,

Haymarket, Australia

#83

#143

Adelaide, Australia

#106

#111

Melbourne, Australia

#116

n/a

The University of Western Australia,

Perth, Australia

#122

#132
Popular Master of Engineering Specializations for Australia
Master of Engineering is a post-graduate level course. It is offered in many specializations. Some of the popular specializations offered under this course are as follows:
Civil Engineering
Biomedical Engineering
Mechanical Engineering
Aeronautical Engineering
Computer Science Engineering
Environmental Science and Engineering
Electronic Engineering
Master of Engineering Cost/Fee in Australia
A big consideration when deciding to study abroad is the cost of tuition. Knowing the cost of studying in a particular nation will help you make wiser choices..
Average Tuition Fees for a Master of Engineering in Australia is A$ 47,000 per year
Average Living Expenses in Australia  A$ 22,000 per year
Student Visa Cost
Student visas (subclass 500) are necessary for students, and the base application fee for these visas is A$630. Students may work part-time in Australia with this visa.
Master of Engineering Requirements for Australia
The requirements for admitting international students vary by country. Each university has a different set of prerequisites for admission. The following are the general entrance criteria for a Master of Engineering in Australia:
Proof that you have completed a recognized tertiary qualification with a minimum GPA equivalent to 65%
Interview
Resume
Work Permit post Master of Engineering in Australia  
For international students who have recently graduated and possess the necessary education and experience to work in certain occupations that Australia is in need of, the Australian government offers Temporary Graduate visas (Subclass 485). The Australian government allows temporary residents to live, study, and work in Australia under the Temporary Graduate Visa (Subclass 485). You can stay for two to four years with this visa. Family members are welcome to travel with you, and this visa costs A$1,680. The visa's (Subclass 485) processing time ranges from 10 to 14 months.
Master of Engineering Scholarships for Australia 
International students can apply for a number of scholarships for master's programs, including the Australia Awards Scholarship, Rotary Peach Fellowship, and Australian Government Research Training Program.
Australian universities also provide a variety of other scholarships to students from abroad. The criteria for these scholarships vary depending on the universities you apply to.
Master of Engineering Jobs and Salaries for Australia  (ROI)
For an engineering graduate seeking an entry-level position, the average salary is about A$75,000 per year. IMF predicts that Australia's GDP will increase by 4% in 2022, and with a GDP of $1.36 trillion, there are a lot of job opportunities for recent graduates.
FAQs for Study Master of Engineering in Australia
Q. How much does it cost to study in Australia?
A. Average tuition fees for a Master of Engineering in Australia is A$ 47,000 annually and average living expenses are A$ 22,000 per year. 
Q. Is Australia good for studying Master of Engineering?
A. Australia is the third most popular country for international students to seek higher education after the US and the UK. In global university rankings, Australian universities frequently rank among the top 50 institutions.  
Q. Do students need to give IELTS/TOEFL to study in Australia?
A. English proficiency tests like IELTS/TOEFL are a must to study in Australia for students whose native language is not English.
Q. What are the minimum requirements of marks in bachelor's degree to study master of engineering in Australia?
A. Students must have earned a minimum of 65% on their engineering bachelor's degree in order to enroll in a master's program in engineering in Australia.
Q. Can a student work part-time with a student visa?
A. The Australian student visa allows the student to work as a part-time worker, but it does not allow them to work full time.
Q. Can a student bring their family to Australia after completing Graduation?
A. Yes, students may live, work, and bring their families to Australia for a period of two to four years under the Temporary Work Visa Subclass 485.